Dynamic Page Layout Tool
'Dynamic Page Layout' is a feature-rich tool allowing the effortless creation of custom page layouts for your site: Easily customise your pages to suit your specific requirements; select up to three columns per page; add/arrange column content with just two clicks of the mouse, all within your web browser: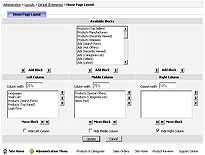 Select a pre-defined block: Events or News, Top Rated products or Special Offers, Login or Search.
Change the column content, order and column size as required.
When you have finished making your changes, click on the "Update" button; your new layout will instantly be updated on your site.
Customising your site's layout has never been so easy!
See the Portal in action

Classified Ads
Let your site's visitors post their own adverts in the 'Classifieds' section.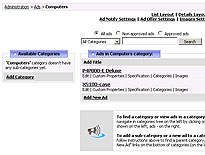 Registered users of your site can be given the facility to post their own adverts, complete with pictures; they can specify the length of time to run an advert; assign ads to specific categories and set the quantity, availability, location and price too. Classified Ads can even be set to require "Administrator Approval" before they are diaplayed, assuring you that undesirable content doesn't end up on your site.

Forum
No web site would be complete without a forum: Post messages, manage and delete content, receive notification of new posts direct to your administrator account and more.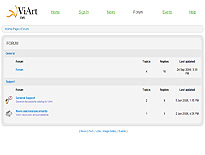 Additional Features
Hold opinion polls and see the results in real time
Create "opt-in" news letters for subscribers
Post news articles and gallery images
Let your customer post their own reviews of your products
In short, ViArt is a fully featured web portal that's as flexible as it is feature-packed. Creating an intuative, informative e-commerce portal with has never been easier.
ViArt CMS Applications:
Dynamic Page Layout
Article Management
publishing online
related articles
article reviews
Assign items to multiple categories
Classified Ads
Forum
Tell-a-Friend
Newsletter
Custom web-pages
Voting Polls
Image Galleries
System Specification:
Languages supported:
English, Spanish, Dutch, Greek and others
Look and feel:
9 predefined layouts, 22 color schemes
Database support:
MySQL, PostgreSQL, MS Access (ODBC)