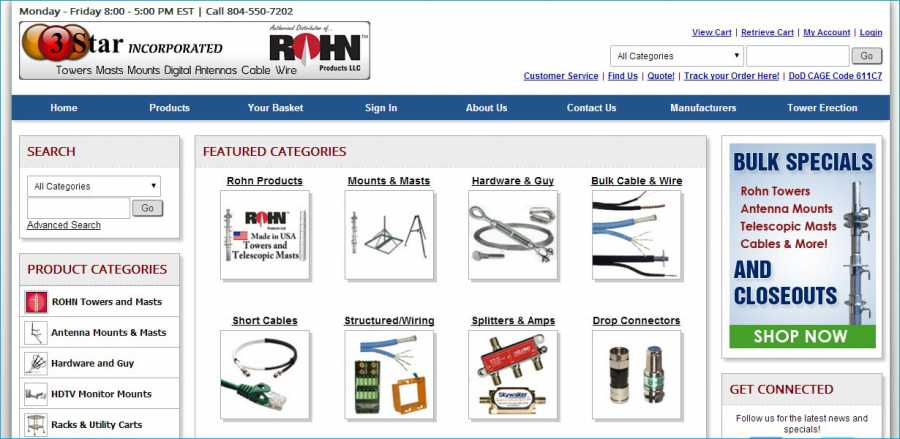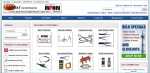 3 Star Inc is an Authorized Stocking Distributor for ROHN Products llc ( Telescopic Masts, rohn 25g 45g 55g 65g RSL SSV towers ) ,Easy-Up Inc, Video Mount Products, Structured Cable Products , is also a Master Distributor for several cable manufacturers, and of our own products, we offer a wide range of solutions for your wire, cable, and accessories for the Home Theater, Audio Distribution, Home Automation, Fire Alarm, Security, CATV, Satellite TV, Access Control, Closed Circuit Television, Datacomm Industries, and more

Our product line is extensive and we encourage you to explore our site to see how in-depth our product line runs.

With 2 Branches Located at 9487 King Air Ct. –Ste C , Ashland Virginia and 1440 Gemini Blvd # 15 Orlando, FL 32837, our distribution centers stocks a huge inventory of products, ready for shipment to companies and individuals nationwide.

With over 30 years of distribution , manufacturing and installation experience, we know the brand names you want and the products you need.

You'll always find competitive pricing, quantity discounts, free shipping on some orders over $2500.00 , and a knowledgeable sales staff ready to help.

Our products are used in a variety of applications including alternative energy and telecommunications.

At 3starinc.com, we are committed to your complete satisfaction. Our goal is to be your #1 choice for all your ROHN Towers , Cable, Wire, Antenna, HDTV, Cable TV, Broadband, Wideband, Satellite, Telecom, Datacom…

We encourage you to let us know how we're doing, and what we can do to make your online purchasing experience here at 3starinc.com the best it can be.