Dear Customers!
We are gald to announce yet another new version 4.0.7. It has a few new features and some new enhancements that we developed based on our costomers feedback. Please read below the full list of changes.
Download ViArt Shop v.4.0.7 now!

Currency exchange rates from FloatRates.com
Description: being a shop owner it is very important to provide your customers with correct prices in different currencies. For a long time in ViArt Shop there wasn't a possiblity to update all currency rates at the same time, you had to update dozens of currencies manually but now thanks to our new partner FloatRates company you can update all currencies with one click and set this option on cron. Learn more about our partner here.
Settings: go to Settings > Orders > Currencies and click on the link 'Update from FloatRates.com' which you can find at the bottom of the page.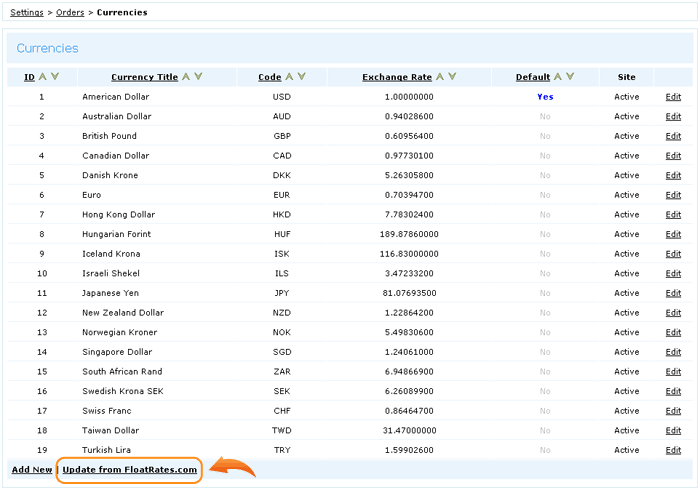 Front-end Call Center
Description: some of you may have noticed that Call Center module available in admin is not up-to-date and lacks many of the latest features such as ability to work with coupons and taxes.
What's new: we have developed a new Call Center module based on the front-end. Now if you are logged in as administrator and go to www.yuorsite.com/basket.php you can see a new button 'Products' - it allows to select any products from a pop-up window and quickly add them to cart with the help of Ajax. Front-end Call Center allows to use coupons, taxes, shipping methods and also any number of payment systems (before you could use only 1 payment system and it had to be advanced).

Settings: login to admin panel where go to Dashboard > Orders > Call Center Orders then click on Products link in the basket and select products from a pop-up window. Once products are added to cart proceed to checkout.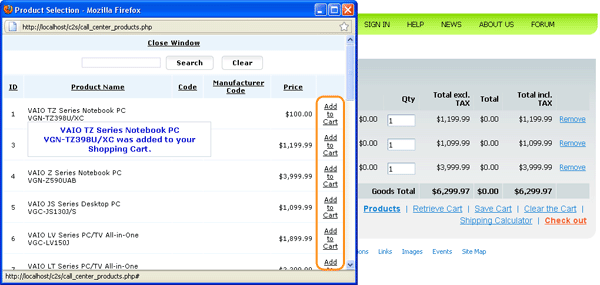 Note: On Call Center checkout you will see only those Personal and Delivery details fields that are marked for 'Call Center Orders' in Settings > Orders > Order Profile Page > Predefined Fields.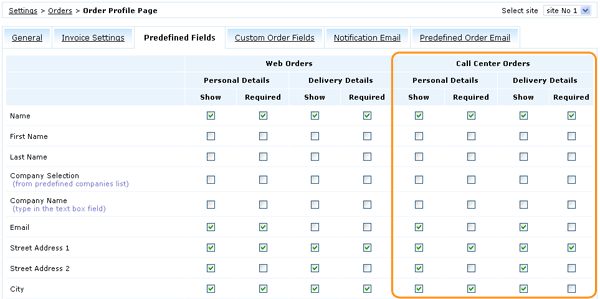 Change Block Titles in CMS
What's new: now you can change block names directly in CMS without editing any files.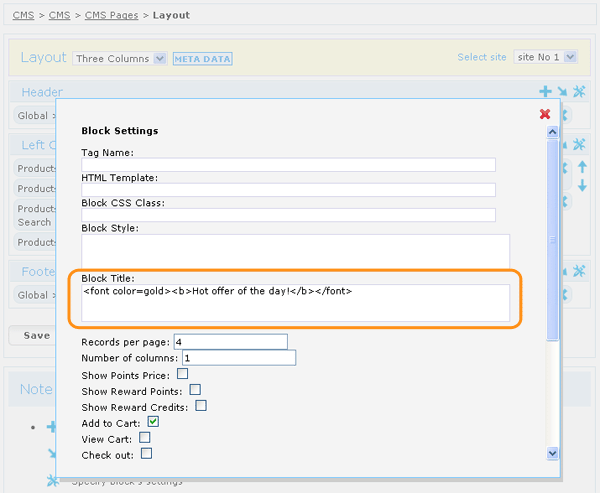 Settings: Go to CMS > Pages Layouts select a page and then click on block's settings icon where specify a new title you would like to use. Note, you can use HTML and language tags there.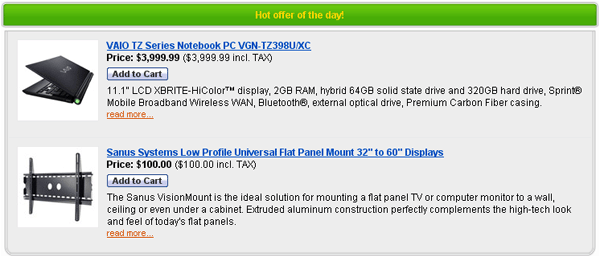 New block 'Currency Converter'
What's new: sometimes it's hard to understand for foreign customer how much product costs in their own currency and if they can afford it. A new custom block Currency Converter provided by our partner FloatRates company allows to convert different amounts into multiple currencies right on the spot without leaving the site.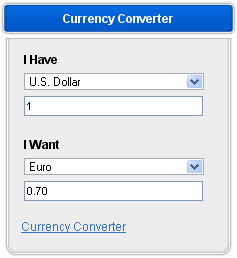 Settings: go to CMS > Pages Layouts click on, for example, Products Listing Page and select Currency Converter from Custom Blocks drop down menu on the right side.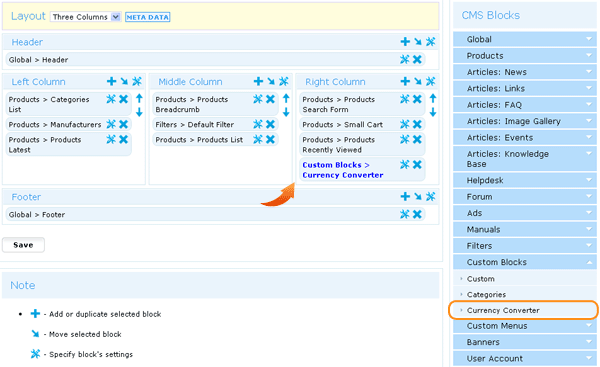 Note: if you upgraded your shop and don't see Currency Converter block you need to go to CMS > Custom Blocks and create a new custom block where insert the code from http://www.floatrates.com/currency_converter page.
META DATA in CMS
What's new: from version 4.0.5 you can set up Meta Data for every page via CMS (e.g home page, contact us, forum, site map etc.) but it was not very clear where Meta Data settings are located so now we have changed the 'tools' icon leading to Meta Data settings to a text message META DATA.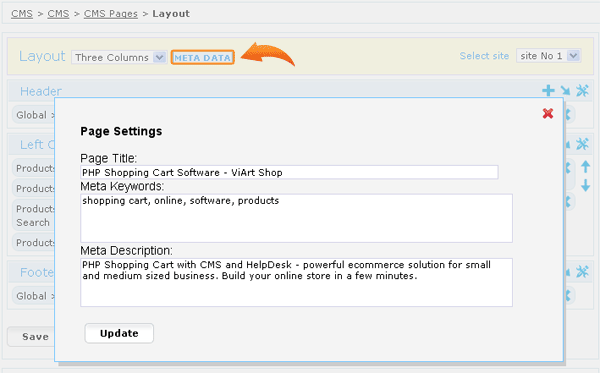 Anti-spam protection
Description: now you can be sure spam bots will not bother you because not only we activated 'Random Image Validation' on all submit forms by default but we also added a 10 second delay before users or spam bots can send a message. To human it's not a problem to wait 10 seconds before sending a message but for spam bots it is a serious issue disrupting their work because they are programmed to send hundreds of spam messages the same second they find exploit link.
Tax rates by zip code
What's new: in addition to calculating taxes by country and state we added a new option to calculate taxes by zip code.
Settings: Go to Settings > Orders > Tax Rates > Add New or Edit Tax where specify in the field Zip/Postal Code the starting digits/letters of zip codes you would like to charge this tax, for example if you specify "91; 10; 11" then tax will apply to such zip codes as 91563, 91185, 10941, 10777, 11000, 11342 etc.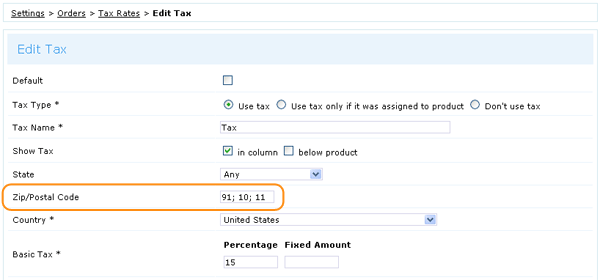 Carousel effect for 'Hot Articles'
What's new: now in 'Hot Articles' block there is the same slider functionality as in 'Special Offer' which creates a carousel effect.
Settings: go to CMS > Pages Layouts > Home Page Layout and click on settings of the 'Articles: News > Hot' block where specify slider type and slider size in pixels or percents. After this click 'Update' and then 'Save'.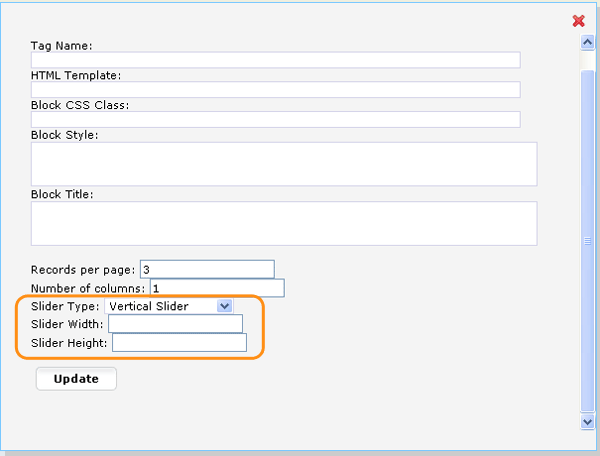 New 'blocks_custom' folder
What's new: to make the customization process easier we have created a new empty folder 'blocks_custom'. Now if you want to change some block it is recommeded to copy this block script into this folder and perform changes there. When displaying blocks on the site, first of all, ViArt Shop would look into the folder 'blocks_custom' and then if it can't find appropriate files there, it will use default scripts from 'blocks' folder. Such functionality allows for much easier upgrade - default files will be updated and custom files will remain in the 'blocks_custom' folder.
Note: it works the same way for templates - you need to create a new subfolder in 'templates' directory, for example 'templates/custom' and then in CMS > Designs > Edit specify the path to this new folder in 'Templates Directory' field or select it from drop-down list. This way system will look for user templates into 'templates/custom' folder and if it can't find them there it will use default files from 'templates/user' folder.

P.S. Now that Call Center and other important changes are out of the way, and that bugs are fixed, we have a strong platform to build One Page Checkout fuctionality. Expect this change in the next version release.
With best regards,
ViArt Team.