This article covers all the issues with regard to ViArt Software licenses:
Upgrading your ViArt Shop Free Edition to ViArt Software Commercial Edition
Once you complete with testing of our software you will definitely want to remove a Free Ecommerce link (at the bottom of your website) and all the limitations a Free Edition has. To remove all the limitations you're to obtain a unique serial number (ViArt Software license). You're welcome to choose from 6 ViArt Software Editions.
Important: purchasing of ViArt Software commercial edition does not require reinstallation of your database or shop. All you need is to upload a license.php file. No other steps are necessary. All the changes you made in your ViArt Shop Free Edition are kept untouched.
ViArt Software Commercial Editions
Presently, ViArt Software offers 6 types of Commercial Editions:
ViArt Shop Light (Limited CMS, without Helpdesk, Forum, Articles and Manual modules)
ViArt Shop Standard (without Helpdesk, Forum, Manual modules)
ViArt Shop Enterprise (full version with ALL above modules built-in)
ViArt Standalone CMS (shop features are excluded)
ViArt Helpdesk (a standalone helpdesk module for support companies)
ViArt Software Hosted Edition (for hosted Editions a license is given for a lease, you're not considered an owner of the license).
Please, refer to this page to know the cost of each Edition.
Types of ViArt Software licenses
Three types of licenses for each of ViArt Software Commercial Editions are currently available:
A single license
A multiple license
An additional activation
What is a single license?
1. A single license allows you to activate only one domain name at any given moment. If you want to run a few domains you're to purchase additional activations, new single licenses or a multiple license. You can't use two separate domain names on the same standard license simultaneously.
2. A single license is included in our reseller program and you can get from 20% to 40% discount on each license as per our Reseller program.
3. Each single license is given a unique serial number and you can easily resell each license (if there is such a need).
4. A single license prolongation is rather inexpensive.
What is a multiple license?
1. A multiple license is offered in three options: for 5, 10 and 100 activations.
2. A multiple license has one unique serial number for all activations. In other words it is a single license with ability to activate it on many domains.
3. Usually, it is purchased by developers and designers or customers who use a multi-site option.
4. It is offered by a discounted price. Please, refer to this page to know how much you save with the multiple license.
5. Apart from the evident advantages, a multiple site license has a few drawbacks:
It is difficult to resell it as all activations are assigned to one serial number.
If you decide to update your multiple domains to the latest versions you're to purchase an updates extension fee for the whole license. It is impossible to update individual activation in the multiple license, but only in bulk. To view the cost of updates extension please refer to this page.
For example, if you purchased a Multiple Enterprise License for 5 activations, the updates extension fee for this type of license is $437. And this amount is to be paid as a one-time fee (not in installments).

What is additional activation?

Additional activation is an alternative to a multiple license. Please note that you can buy an additional activation if you already have at least one license with ViArt Shop. When purchasing an additional activation you save almost half of the cost of a single license. An additional activation can be purchased from the Upgrade Version page (select the Edition you already have and you will be presented with the option 'Shop Extra activation'). Keep in mind it makes sense to buy extra activation only for license with valid updates period otherwise new activation won't work for the latest ViArt version.

The drawback of an additional activation is that you do not receive a unique serial number, but just a new activation to the existing serial number and ability to activate a new domain.

Note: For development purposes we can grant you with an additional development activation for free but only for the period of up to 3 (three) months since the date of license purchase.
Updates extension fee
Each type of ViArt Software Commercial Edition has an unlimited period of use unless you decide to upgrade your license to the latest versions. In this case your license is valid for free updates within 6 months (for Light Edition), 9 months (for Standard Edition) and 12 months (for Enterprise Edition).
Important: We calculate the free updates period from the date of the license purchase (not from the date you activate the domain).
Once this period expires and you decide to upgrade your Edition to the latest version or update current version to the latest available version build, you have to purchase an updates extension for your type of license. This fee is 50% of the complete price you paid for your ViArt Shop Edition. Along with extending license updates period you receive a right to change the domain it is activated on but only one time (for any edition). Please, refer to this page to check the cost of the updates extension fee for your type of license.
Updates extension fees help us to decrease the cost on custom development and considerably enhance our ViArt Shop features and modules.
Once you pay this fee, we renew your serial number so you can generate a new license file.
Important: If you have a multiple license type or a license with more than one activation you'll have to purchase an updates extension fee for your multiple license type or for all activations that come with your single license. It is impossible to update each activation within one license one by one or pay by installments.
Upgrading your ViArt Software Edition
If you purchase a Light/Standard Edition and later decide to upgrade your Edition to Standard/Enterprise Edition you can easily do it via Upgrade Version page. It costs much less than buying a new original license.
On Upgrade Version page you can also upgrade your single license to a multiple license.
Important: Before upgrading to a multiple license we strongly recommend you to carefully read the Updates Extension Fee section.
Activating your ViArt Shop license
Once you purchase a new license or an additional activation with us you will have to generate a license.php file to remove a Free Ecommerce link and limitations. Please, follow the below steps to obtain your license.php file:
1. Go to http://www.viart.com/activation
2. Enter your serial number (which you received in the notification email after the license purchase) and click 'Go' (as shown on the image):

3. On the next page type the domain name (where your ViArt Shop is installed) e.g. yoursite.com and click 'Generate':

Important: a license activated for a domain like yoursite.com can be used for a subdomain in the format www.yoursite.com/demo but it won't work for a subdomain demo.yoursite.com as the latter is considered as a new domain name and requires an additional activation or a new license.
Note: If your ViArt Shop is installed on the local computer there is no need to generate a separate license file. The license.php file for your domain includes local hosts by default i.e. any license for any domain works on localhost.
4. Once the license.php is generated click 'Download license' and save it somewhere on your computer.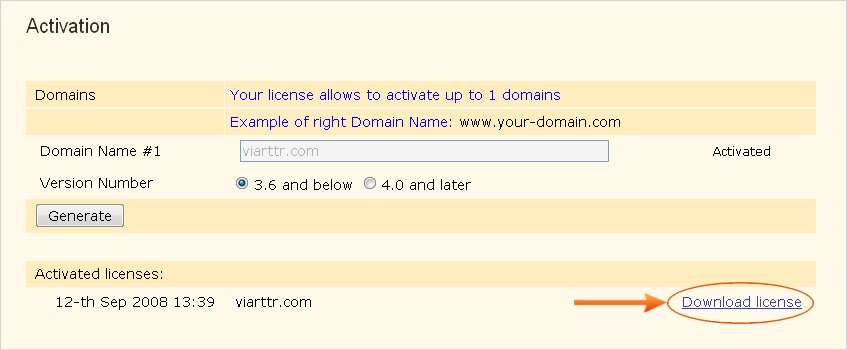 5. Extract the files from the zip archive, open your site via any FTP client and copy the 'license.php' file to the /includes folder of your shop.
Regenerating your license
Each time you change your domain name, purchase updates extension or an additional activation you will have to regenerate your license.php file and upload a new license.php file to your /includes folder. To regenerate a license please follow the steps listed in the section 'License activation'.
Changing your domain name
Sometimes, you might come across the need to change your domain name to another one. In this case please contact us via our Support Page and specify a new domain name you want to use instead of the current one. We will change the domain on our end.
Note, you are entitled to change the domain activated on the license:
Light Edition - one time within 6 months from the date of purchase
Standard Edition - two times within 9 months from the date of purchase
Enterprise Edition - three times within 12 months from the date of purchase
When the free updates period expires and you want to change the domain you should buy Updates Period Extension - it both extends your license for free software upgrades and gives one more free domain change. If you used all attempts to change domain and updates period on your license is still valid then you need to buy Extra Activation on Upgrade Version page.
Affiliate program
Apart from the competitive prices on ViArt Software licenses we are offering an attractive affiliate program. Please, refer to our Affiliate Policy Page to get more information on joining our affiliate program.
FAQ
Do I need one license if I run a multisite feature on my ViArt Shop?
As per our license policy, each single license can be used for one domain only, so to remove limitations on all your domains (that are running as multisites) you'll have to purchase additional activations or upgrade your single license to a multiple one.
I'm getting a Fatal error: Corrupted encoded data detected in /home/yoursite.com/public_html/includes/license.php on line 0 or Fatal error: Unable to read 402 bytes in /home/yoursite.com/public_html/includes/license.php on line 0
This error occurs for old versions of ViArt Shop (3.6 and earlier) when uploading Zend Encoded files into the 'includes' folder in non-Binary mode. The files within the 'includes' folder must be uploaded in the BINARY mode. This is to be selected within your FTP client program. New ViArt Shop versions don't run on Zend Optimizer therefore they do not require Binary mode.