Overview
Once you set up the main settings and fields you need to edit the access levels of the articles. Note, at the moment it is possible to modify access rights of the articles on two levels: in the Article Type and individually per each Article Category.
Article Type Access Levels
To set global access rights to some Article Type for example News or FAQ etc. go to Articles > Articles Settings and click on 'Access Levels' tab.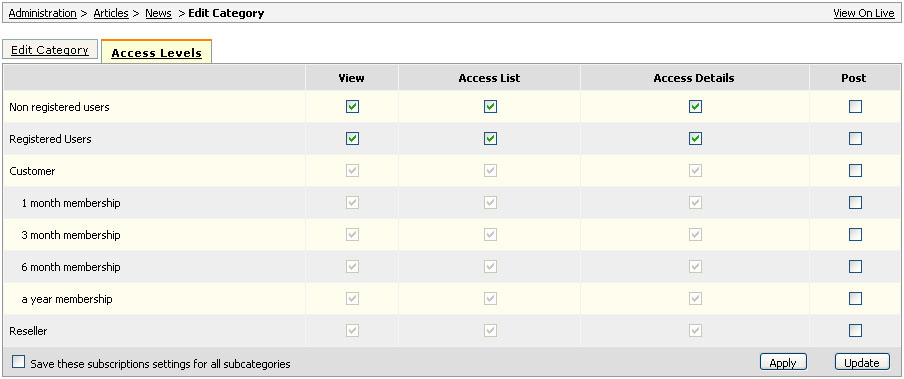 View column defines what users are able to see articles central page i.e. the so called Top category, the one where all users land when clicking News link in the top menu for example.
Access List column defines what users are allowed to visit Articles Listing pages.
Access Details this column is used to allow access on the Article Details pages.
Post this column does not carry any functon yet but in future it is planned to allow users to post their own articles.
Save these subscriptions settings for all subcategories if you tick this checkbox and click 'Update' or 'Apply', all categories within this Article Type will have the same Access Levels settings.
Article Category Access Levels
To set individual restrictions on the Article Category go to Articles > News click on the Edit next to the category name and there select Access Levels tab.

The settings fields here are the same as in Articles Settings but they spread only on the category and if you select Save these subscriptions settings for all subcategories to its subcategories as well.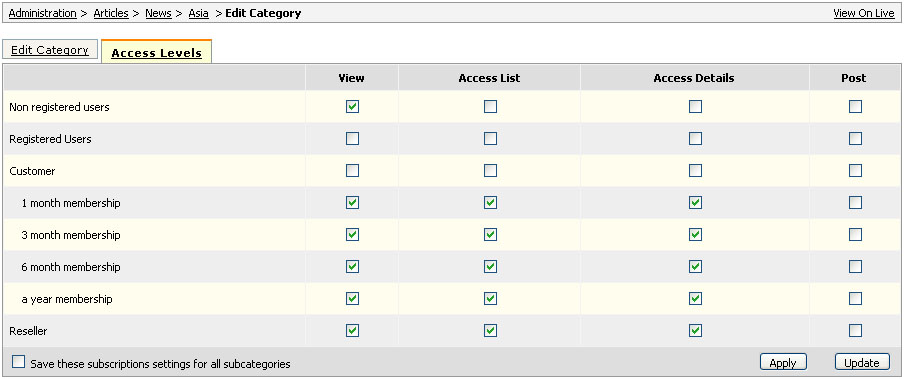 This feature is useful in the sense that you can give access to some articles only to paid members or hide some articles category from all other users except for the selected user type. For more information on User Type subscriptions see section 30.