This tutorial covers the following sections:
Back to top
Overview
From version 3.6 an Abandoned cart recovery feature has been integrated to ViArt Shopping cart. An abandoned cart takes place when a user places something in his shopping cart and fails to make a purchase due to some reason. The reasons may be different: some shoppers may become frustrated with the long or non-friendly checkout process, others are interrupted and never complete a purchase. There are also users who think they have purchased when they haven't actually. This is where a ViArt Abandoned cart recovery utility may be of great help.
With the feature integrated in each edition of ViArt Shop, an owner of the shop is able to manage abandoned or incomplete orders via Administrative panel, generate and send notifications to clients reminding them about items they selected for a purchase or invite them to complete their purchase by offering a discount coupon or alternative benefits.
Back to top
Getting started: general settings
To start working with the Abandoned cart recovery feature please do the following steps:
1. Ensure that you've enabled an option 'Orders Recover' on the Administration > System > Privilege Groups (section 'Orders Permissions').
2. Navigate to Administration > Orders Maintenance > Orders Recover. You'll see an Orders Recover management panel. It resembles the 'Sales Orders' page and looks like as follows:





Press Orders Recover Settings (below Orders Maintenance section)




to set general setting and configure a notification message:



where

Look back Days - sets the number of days prior to today for abandoned orders (carts) to be shown in the "Orders Recover" panel. For example, if you set a '30' value, then abandoned orders for the last 30 days prior to today will be displayed.

E-mail time to live defines the number of days when the 'abandoned carts' notifications sent to users will be shown as being sent.

Ignore customers with Sessions - if selected, the carts of users currently browsing your site will not be regarded as abandoned.
Back to top
Sending orders reminders
Before sending a reminder please ensure that you've filled the fields for notifications in the Orders Recover Settings page. Further, navigate to Administration> Orders> Orders recover and press Send All Orders Reminders.

To send reminders to selected buyers, please select relevant abandoned carts and press 'Send Filtered Orders Reminder'.
If the reminder is sent correctly it will disappear from the abandoned orders list and the below screen appears:

You can filter your reminders by 'sent', 'not sent' and 'view all' by selecting 'yes', 'no' or 'all' radio button in the ' Reminder sent' field.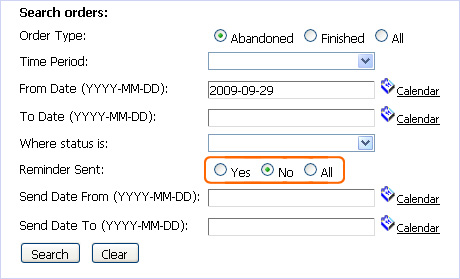 Back to top
Managing abandoned cart recovery panel
Abandoned cart orders taken via the website can be viewed/managed by going to the Orders > Orders Recover section. The abandoned carts maintenance section displays all abandoned orders or failed transactions. Moving your mouse over to the 'Order Total' column brings up a pop-up window which shows order details in brief.

Clicking on the links No, Status, Order Placed, Order Total, Reminder Sent will sort the abandoned orders in either ascending or descending order correspondingly.
Orders can be searched/filtered in 2 ways.
First: By using the Search feature available (as shown below).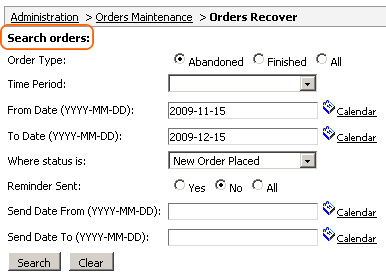 Abandoned orders can be searched by order type, time period, status, reminder sent. A javascript calendar feature is also available which helps you to search abandoned orders by a specific date or a period.
Second: By using the Abandoned Order Stats Grid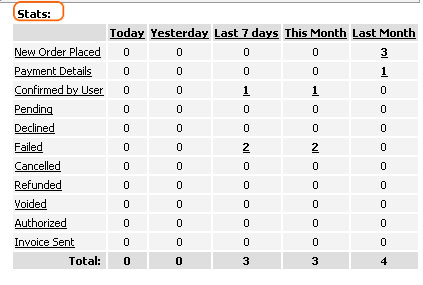 The Abandoned Order Stats Grid shows abandoned orders taken Today, Yesterday, Last 7 days, and orders taken for the month. Abandoned orders are sorted according to their status. To filter abandoned orders by a specific status press a status link.
To view/Edit an abandoned order press the View/Edit link. For more details on editing an order please see section 13.4.