Overview
If you want to make your online store more user-friendly, you should equip it with a good product search. A simple one can be provided by adding the Products (Search Form) block via CMS to the home page, the product listing page or the product details page. The Products (Search Form) block allows searching through the product categories and has a link to 'Advanced Search' page.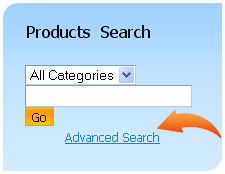 Accessing Advanced Search settings
In order to set up the parameters of advanced search go to Products > Advanced Search.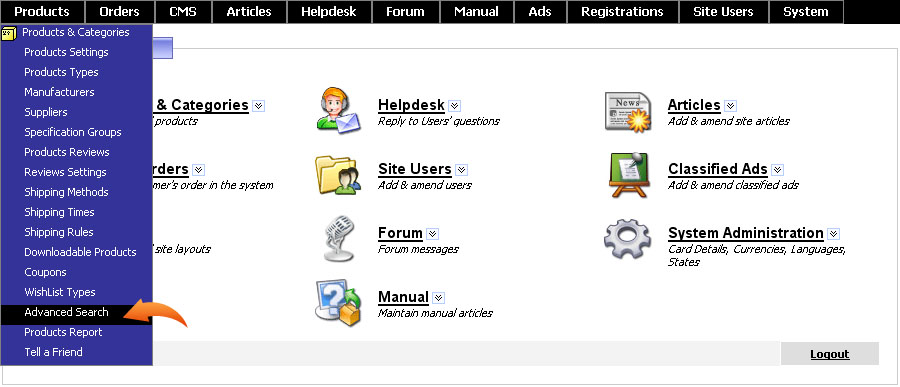 Search fields
You can start with entering some sort of introduction or explanation notes in the Intro text for advanced search form.

The next section Search fields indicates the fields your customers will be able to search through.

Search for - this field is used to enter the word or phrase customer is looking for.
Search in - customer can select where to look for the keyword: in title, product code, short or detailed descriptions.
Search in category - this field allows to select a category where to perform the search.
Manufacturer - this is a drop down list where customer can select the Manufacturer of the product.
Price - with the help of this field customer can specify the Price range of the sought products.
Weight - likewise customer can specify the Weight limits of the products he is looking for.
Please see a screenshot below how it looks like on live site:

Search in options and specifications
The next series of search fields includes Search in the products options and Search in the products specifications. Note, that the system displays only those options and specifications that are assigned to at least one product.
To enable search by this or that option or specification just tick its checkbox and click Update at the botom of the page.
You can also specify some default values in Predefined values (one per line) box.

This way the fields will be presented in the form of a ListBox. If left blank, a text box will be used instead.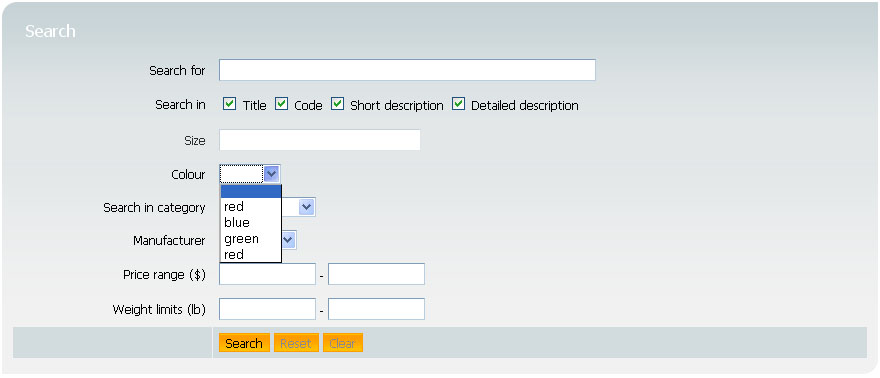 DO NOT FORGET to click Update at the bottom of the page after finishing the changes.
Please note, you can set up the blocks appearing on the 'Advanced Search' page in CMS > CMS Settings > Advanced Search.