Getting started
Articles module has a number of default blocks with which you can set up your articles pages. To select the required blocks go to CMS and click on the article page you would like to set up or alternatively go to Articles > Articles Settings and click on Listing or Details page opposite the Article Type.

On Articles Listing page there are available the following blocks: Categories List, Subcategories List, Hot, Latest, Top Rated, Top Viewed, Search, Breadcrumb, Articles, Content, Category Info, Category Related Products.
Categories blocks
Categories List - has two possible views: multi-level list with all categories and tree-type categories structure. Also it is possible to display a small or large image next to the category name.
Subcategories List - in this block it is possible to display category's description and define the number of columns and subcategories that will be displayed on the site.
Hot block
On every Edit Article page there is a 'Hot' checkbox along with a 'Hot Description' available. Therefore if article has this checkbox checked it will be visible in the Hot block. Note, it is possible to define the quantity of articles and columns for the 'Hot' block in CMS.

Latest Articles block
With this block you can show the latest articles in your shop. There available a number of settings for this block:

Group By - with this filter you may group latest articles by categories and select exactly from which categories the latest articles should be taken, the choices are: No grouping (no grouping filter is applied), Top Categories only (i.e. subcategories are disregarded), Available Categories and Selected Categories (needs to be specified in the 'Categories Ids' field below).
Top Articles - select how many Top Articles to show in this block. In the Top Article Image type and Top Article Description define how to display the Top Article.
Articles links - are displayed under the Top Article usually as links to other articles in this category.
Number of columns - select in how many columns to display latest articles.
Please check in the screenshot below the implementation of this block on the live site.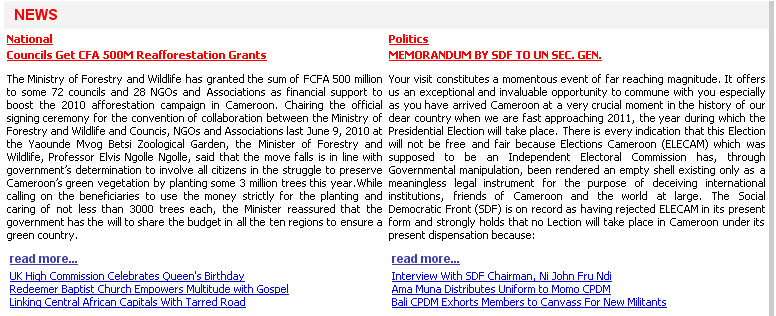 Top blocks
Top Rated - this block displays the most successul articles. The settings for the top rated articles and products are located in System > Global settings.

Top Viewed - in this block you can select how many top viewed articles and in how many columns to show on the site.
Search - this block helps to search articles within a certain Article Type (e.g. News).
Breadcrumb - shows the path of the category or an article.

Listing blocks
Articles - this block displays the list of available articles in this category. You can specify the number of articles per page and columns. Please note the image and description settings for articles listing are defined in Article Type Settings "Fields" section (see section 28.2).
Content - is a block with articles names that allows to better navigate the page, for example, when you click on some article name in this block then the page will scroll exactly to this article.
Category Info - this block can be used only on Listing page and is used to describe the article category. You may define what category image and description to show in this block.
Category Related Products - is a block where are displayed either Article Type or Article Category related products (article friendly_url=related_items_articles]).
Details Page blocks
On Article Details page are also added the blocks: Article, Related Articles, Article Related Products and Related Forums.
Article - is the Article Details block and contains the article main information specified in 'Full Description Text' on Edit Article page. If you do not see such field then make sure you have checked to display 'Detailed Description' on Details page in Fields section (see section 28.2).
Related Articles, Article Related Products and Related Forums - are the blocks that display related articles/forums/products assigned individually per article (see section 28.4).